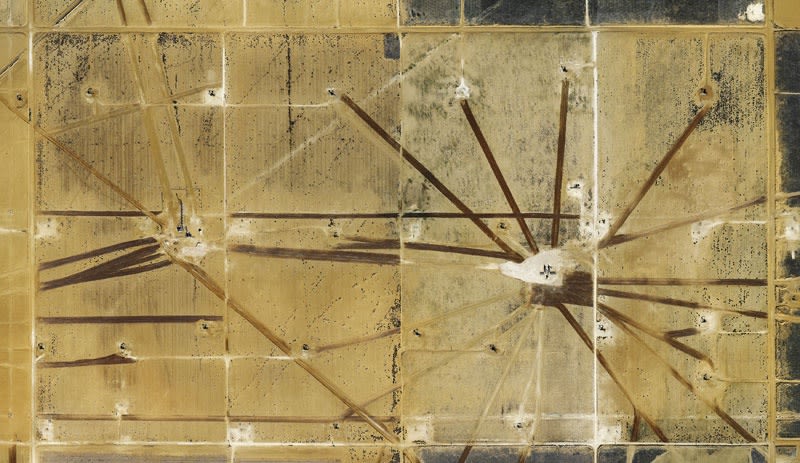 Carroll / Fletcher is pleased to present Black Diamond, the first solo show at the gallery by Mishka Henner (b.1976) one of the UK's most significant artists working with and interrogating the photographic medium. Henner's appropriative practice explores the use and value of photography and its relationship with contemporary experience.
The exhibition brings together four distinct but interrelated series of work, based on the collection and mediation of publicly available information sourced through social media, the internet and drones, and considers the way in which these technologies are used by the government, intelligence agencies and corporations. Henner explains: 'I'm exploiting loopholes in the vast archives of data, imagery and information that are now accessible to us, connecting the dots to reveal things that surround us but which we rarely see or don't want to see.'
In the artist's recent Oil Fields and Feedlots series (2013-14), large-scale photographic prints reminiscent of vast Abstract Expressionist canvases represent landscapes carved by industries meeting extraordinary levels of consumer demand for two of North America's most prized commodities: oil and beef. Sourced from publicly available satellite imagery, the subjects depicted represent a systematic intent to maximise production and yield in order to satisfy extraordinary levels of human consumption. The result is a natural landscape transformed into something akin to the circuit boards that drive the logistical operations of these industries, and ultimately, feed consumers' appetite for these resources. Shown alongside the photographs are a selection of research documents used in developing both series including geological mapping data of gas and oil fields produced in the 1970s and 80s, and used by petroleum companies to identify possible drilling sites, technical data, raw satellite imagery, and archive photographs of oil gushers.
Displayed on plinths filling the rear gallery space, Fifty-One US Military Outposts (2010) is a series of photographs of overt and covert military outposts used by the United States in 51 countries worldwide. The sites were gathered and located using data which exists in the public domain, exposed and mobilized by Henner, including official US military and veterans' websites, news articles, and both leaked and official government documents and reports.
The exhibition also includes new multimedia works from Henner's Scam Baiters series (2013-present). Scam baiting is a form of internet vigilantism which has flourished with the spread of the World Wide Web to Africa, South America and the Far East. In this process, the vigilante poses as a potential victim in order to publicly expose and waste the scammer's time, by responding to their email and subsequently feigning receptivity to their demands. Henner discovered numerous examples of extensive scam baits online, and will exhibit a number of signs that various scammers were asked to make as a result of email conversations, negotiation of fraudulent documents and bogus websites. Documentation of this correspondence, including one particularly lengthy exchange between Henner's associate, Condo Rice and a trio of scammers spread across Libya and the United Arab Emirates, will also be displayed, alongside photographs of the scammers posing with their signs. Sound recordings of the scammers singing popular songs will permeate the space, giving human presence to this otherwise virtual correspondence.
Henner is currently shortlisted for Consumption, the Fifth Prix Pictet Award. The exhibition of finalists will be on display at the Victoria and Albert Museum, London in May 2014, where Henner will show a selection of works from his "Oil Fields" and "Feedlots" series.
In 2013, Henner was awarded the ICP Infinity Award for Art by the International Center of Photography, New York, and shortlisted for the Deutsche Börse Photography Prize at the Photographers' Gallery, London. His work is held in collections including the Tate Library Collection, London; Centre Pompidou, Paris; Museum of Fine Arts, Houston; Portland Museum of Art, Metropolitan Museum of Art and the Cleveland Museum of Art.
Mishka Henner lives and works in Manchester. Recent solo exhibitions include Precious Commodities, Open-Eye Gallery, Liverpool (2013) and No Man's Land, Hotshoe Gallery, London, UK (2011). Group exhibitions include Now You See It: Photography and Concealment, Metropolitan Museum of Art, New York; Plotting From Above: Mishka Henner and Montreal Aerial Survey, McCord Museum, Montreal; Drone: The Automated Image, Darling Foundry, Montréal, Canada; Views from Above, Centre Pompidou, Metz, France; A Different Kind of Order, International Centre of Photography, New York, USA (all 2013); Appropriation: Questioning the Image, Fotogalerie Wien, Austria; No Man's Land, Oregon Center for Photographic Arts, USA (all 2012).
Download the exhibition guide here.
Download the commissioned essay by Daniel Rourke here.