Looking at one thing and thinking of something else
An Exhibition in Four Parts
11 November 2016 – 27 May 2017
Part Four: Disrupt / Disorder / Display
17 March - 27 May 2017
Private view: Thursday 16 March, 6-8pm
Please note the gallery will be closed on Saturday 6 May.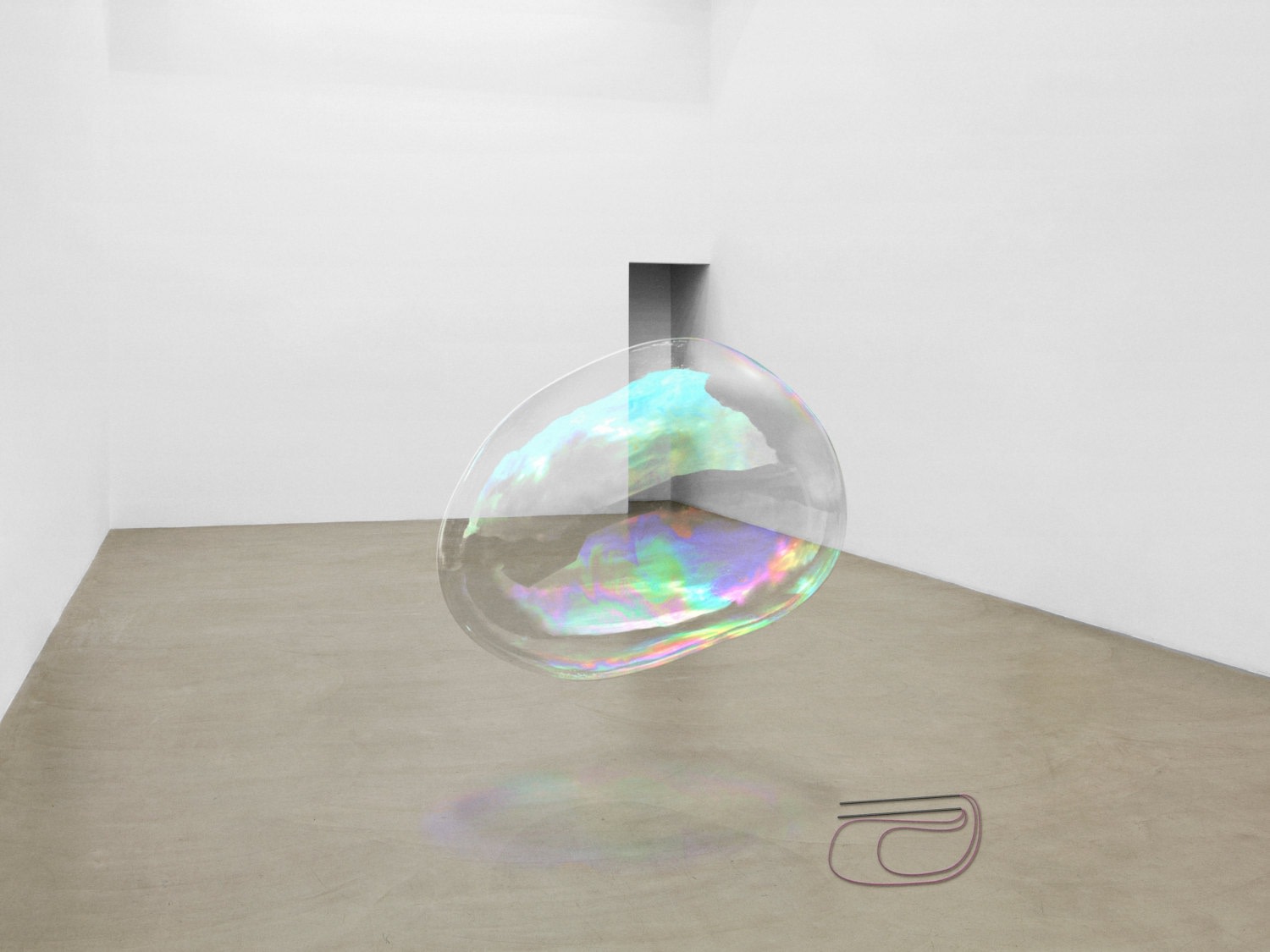 UV Production House (Joshua Citarella and Brad Troemel), a bubble (2016), sculpture
Image courtesy of the artists and Carroll / Fletcher, London
The final instalment of Carroll / Fletcher's four-part exhibition draws together works that turn their attention to the systems that govern the art market. In critiquing the ways art is produced, distributed and sold, the artists in the exhibition encourage new modes of thinking and reimagine the ways that art can function in the world.
For Stolen Pieces (1995-97), artists Eva and Franco Mattes worked in secret over a period of two years stealing dozens of fragments from the most respected museums in the United States and Europe. These 'stolen pieces' include, for example, a label peeled from Jeff Koons' equilibrium tank, a length of shoelace from a Claes Oldenburg soft sculpture, a little blob of lead from an installation by Joseph Beuys and a tiny chip of porcelain from Marcel Duchamp's Fountain. A CCTV screen above the gallery reception desk, shows footage shot with a hidden camera, documenting the artists' last heist: appropriating a shred from a painting by Alberto Burri. Meanwhile, Catt (2010) is a sculpture based on an Internet meme, deceptively exhibited as artist Maurizio Cattelan's work at a gallery in Houston, Texas in 2011.
Mishka Henner has described the works in his series Golden Ratio as 'reducing painting to pure investment value.' He began the series in 2014 with the $0 painting, and from there the progression of the series follows the Fibonacci sequence, with each successive painting made only once the previous one has sold. The works circulate as a word-of-mouth project only and in that way, reflects the circles in which the artist moves. The first pieces were gifted to close family members or sold to friends. In this way, the series acts as an informal marker of the artist's worth. For the $10,946 painting, the latest work in the series, Henner mimics the cover design of the influential JRP Ringier series of books of critical writings on art, a reference to how the design of book covers are used to assist in selling ideas. Climbing holds bolted to the surface of the piece allude to the dizzying nature of each price rise at this stage in the series, and the sense of both thrill and risk implicit in the climb. A portfolio showing all the works in the series to date can be viewed behind the gallery reception desk.
Natascha Sadr Haghighian's I can't work like this (2007) was first produced in response to a gallery's invitation to contribute a work for an art fair. Written out solely through the gaps between nails hammered into the wall, her declaration rejects the traditional art object. Instead she presents only the tools for installation used to mount art fair displays, the hammer and nail: symbols of labour itself. With this pointed phrase, the artist expresses her frustrations at the pressures and constraints placed on creative freedoms within a commercial context.
In May 1999, news spread through the art world that the Serbo-Slovenian artist Darko Maver had died in the NATO bombing during the Kosovo War. His death precipitated a string of posthumous exhibitions, including a tribute at the 48th Venice Biennale later that year. A radical and reclusive artist, Maver was best known for his life-size sculptures of murder victims, which he positioned in abandoned buildings and hotel rooms, seeking to draw media attention to the brutality of the war in the Balkans. The models were so gruesomely realistic that it is said they shocked and horrified the people who found them. In fact, it later emerged that no such sculptures had ever existed. And neither had Darko Maver: he was the invention of Eva and Franco Mattes. The images documenting his artworks were photographs of real atrocities found online, several of which had taken place the former Yugoslavia.
Thomson & Craighead's Trigger-happy (1998) is a reworking of the classic arcade computer game Space Invaders, where instead of battling row after row of pixelated alien invaders you must blast your way through passages taken from Michel Foucault's essay What is an Author? (1969). The game has nine levels and should you complete them all, then you will have traversed an abridged version of the entire text which considers the relationship between author, text, and reader. In this case though the reader is also the player, and, in order to keep going, the text is poetically fragmented as it is destroyed.
In 1971, Manfred Mohr presented a series of drawings at ARC - Musée d'Art Moderne de la Ville de Paris, made using a digital computer and drawn by a plotter. Alongside, a large white panel of paper, taken from the plotter machine, was presented on the wall for visitors to write their answers to the question 'What do you think of aesthetic research made with the help of a computer?'. Here, works from this period of Mohr's practice are shown beside the original comments board, revealing the range of responses towards what was the first solo presentation in a museum of 'computer art'.
Michael Joaquin Grey's ZOOB (which stands for Zoology, Ontology, Ontogeny, and Botany) is an open-ended play system featuring five basic elements that snap together in twenty different ways. The elements are limb-like and joint-like, and there are numerous ways to connect them into complex, organic, movable models. The shapes are inspired by nucleotides, the basic structural units of DNA. Inspired by Fröbel's Gifts and Occupations, ZOOB advances an organic and holistic conception of play and learning based on body empathy and the language of living systems.
Ultra Violet Production House (UV) is an Etsy store developed by artists Joshua Citarella and Brad Troemel that provides collectors with high-quality material kits and fabrication guidance for all original works. UV Production House's product images are digitally composited combinations of pre-existing products found through on-demand Internet retailers such as Amazon, eBay, Alibaba, and Etsy itself. These products have never been fabricated or seen in person by the artists. Collectors assume responsibility for the realization of materials received based on parts, tools, and tutorials sent to them at the point of purchase. UV Production House has no overheads, fabrication facilities, studio, tools, hand shipping, or clearance for visibility. It is a fully outsourced online inventory of material goods, an attempt to lessen the risk and debt associated with artistic production today.
John Wood and Paul Harrison's video Semi Automatic Painting Machine presents a farcical production line in which objects including a spirit level, potted plant, balloons, bunting and chairs are doused in paint by spray guns.
Artists: Michael Joaquin Grey, Natascha Sadr Haghighian, Mishka Henner, Eva and Franco Mattes, Manfred Mohr, Thomson & Craighead, UV Production House (Joshua Citarella and Brad Troemel), John Wood and Paul Harrison