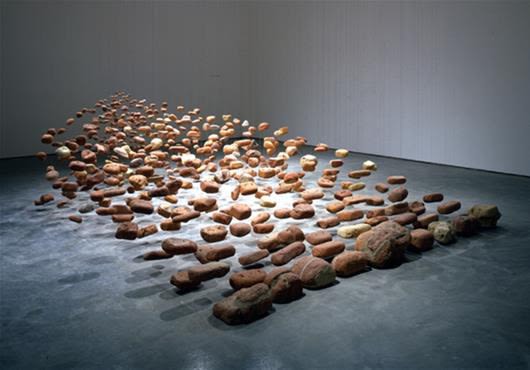 [Re]construct
Yorkshire Sculpture Park
Wakefield
UK
1 April - 25 June 2017
John Wood and Paul Harrison are part of [Re]construct, an Arts Council Collection National Partners exhibition at Yorkshire Sculpture Park.
There has long been an intimate and complex relationship between sculpture and architecture, with many artists operating at and around this boundary. [Re]construct explores ways in which artists have incorporated architecture into their work using a process of deconstruction and reconstruction in order to interrogate and manipulate its forms.

Gaston Bachelard wrote: "A house constitutes a body of images that give mankind proofs or illusions of stability". Several of the works question our ideas about the materiality and permanence of the built environment, with bricks made of wax, wall plugs crafted from onyx, reassembled ruined structures, and bodies painted to look like stone. Other objects insinuate themselves into the very fabric of the building, their presence subtly altering the architectural status quo.

Buildings are designed, inhabited and animated by people; they are the containers of our stories and memories, framing almost every aspect of our experience. Many of the represented works meld human and built histories, making manifest the often invisible presence of lives within. Commissioned in 1744, YSP's Chapel is an exceptional space, which also embodies the extraordinary way in which buildings can independently engender very particular qualities such as peacefulness and spirituality. Here the works on display further intensify the already heightened relationship between the viewer and their immediate environment.

[Re]construct features work by: Claire Barclay, Alex Chinneck, Susan Collis, Martin Creed, Anya Gallaccio, Lucy Gunning, Sonya Hanney and Adam Dade, Denis Masi, Alex Pain, Cornelia Parker, Nina Saunders, Emily Speed, John Wood and Paul Harrison.
More information available here

March 29, 2017